I know it has been a while… again. Some even sent me messages that they miss my posts. I swear, I do too. But my routine has really changed since I started working. One thing that did not change though was my habit of taking outfit photos. Every week, I post at least two on my Instagram account. On the other hand, it has never been that fulfilling as compared to blogging because I never get to share my thoughts on what I wear. That gave me the idea of sharing here some of my favorite outfits recently. ☺
*Quality of photos are not excellent. They were taken using my phone only*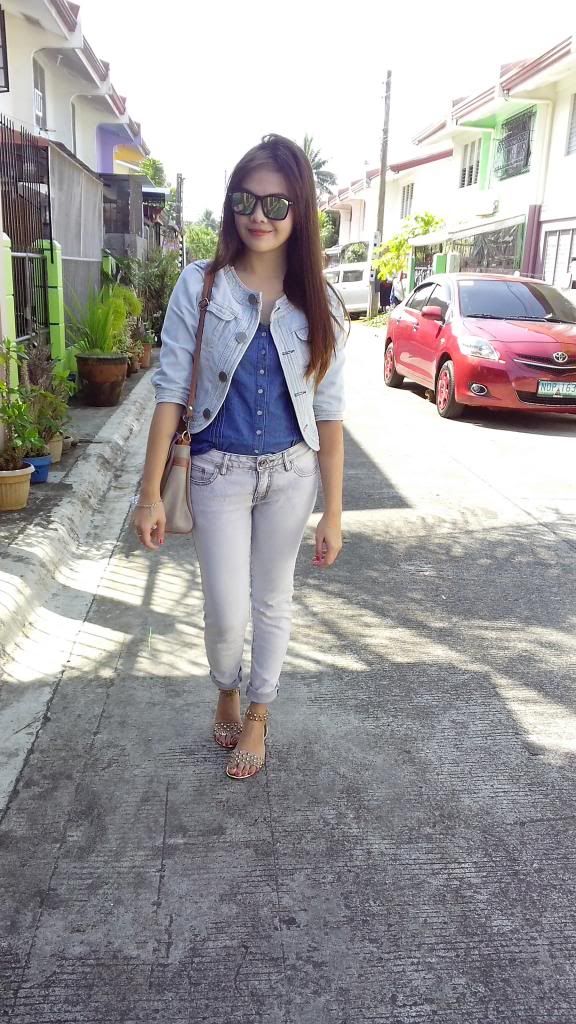 (Denim top and blazer - thrifted ; Jeans - Penshoppe ; Loreese bag ; Parklane strappy sandals)
This was what I wore when I went to work on a Saturday. I saw this denim blazer and I just knew that I had to pull off an all-denim ensemble. Denims are timeless and effortlessly stylish that I can never have enough of them. Just a warning though, never put them altogether when it's too hot. ☺
( Peplum top - fashiontrendsonlineph ; Jeans - Penshoppe ; Liz Claiborne bag ; Parklane strappy sandals )
Whenever I go out with my family during Sundays, I usually prefer wearing dresses, skirts and pants. Outfits should always be decent since going to church is always included in our agenda. My top's a bit revealing both front and back but it's just too cute! Pairing it with pants toned it down and made the overall look prim yet sassy.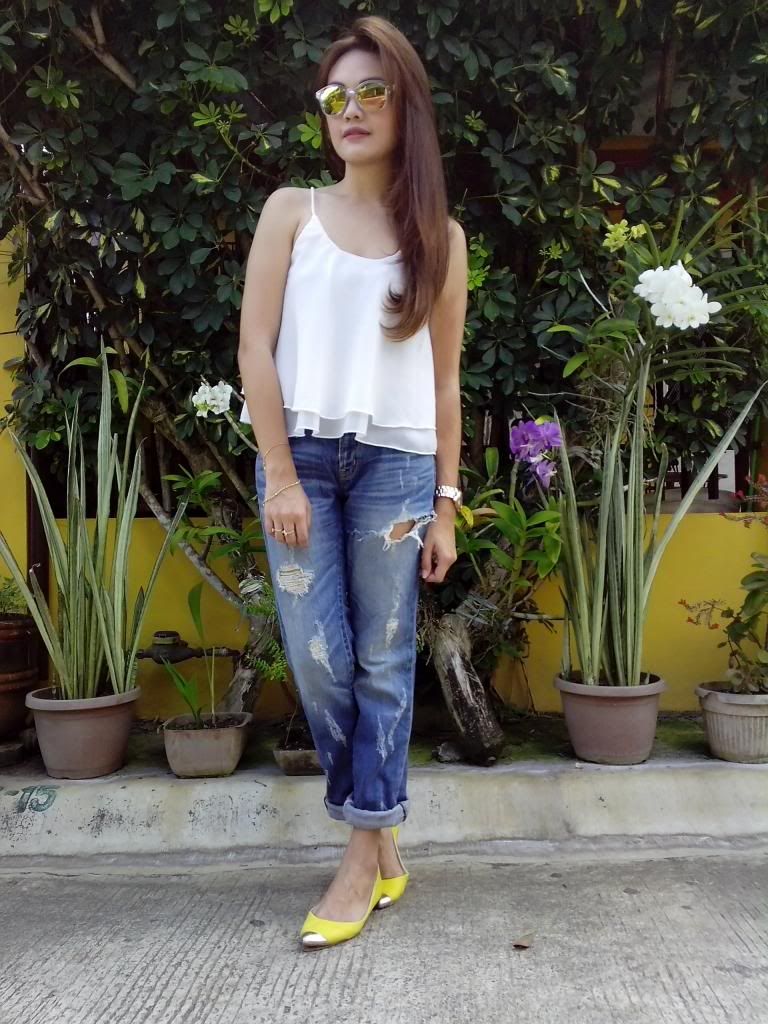 (Top from E-mall ; thrifted jeans and flats)
Days that are intended for hanging out with friends are my favorite because for one, I get to wear anything I like. No dress codes. This was one of them. I've been collecting tops like this for a while now. It's comfy, goes with anything and suits me well. As of the moment, I have around six tops like this in different colors. You know what they say, if it looks good on you, go get them in all colors! Ha, ha! It was also my first time to wear boyfriend's jeans and I must say, every girl must have one. It's so laid back yet effortlessly stylish at the same time. You can pair it with plain sleeveless tops or shirts and you're good to go for a sexy-without-trying-so-hard look. ☺
(Vera Wang top - gift ; SM Department store skirt ; Parisian strappy sandals)
I always had a thing for skirts with unique prints. It's not only stylish but very functional as well. You can pair it with a simple top, a plain one even, add some accessories and you're good. The trendiest ones recently are skirts with scenic prints. The edgy in me loves it because it gives a different feel than the usual geometric patterns.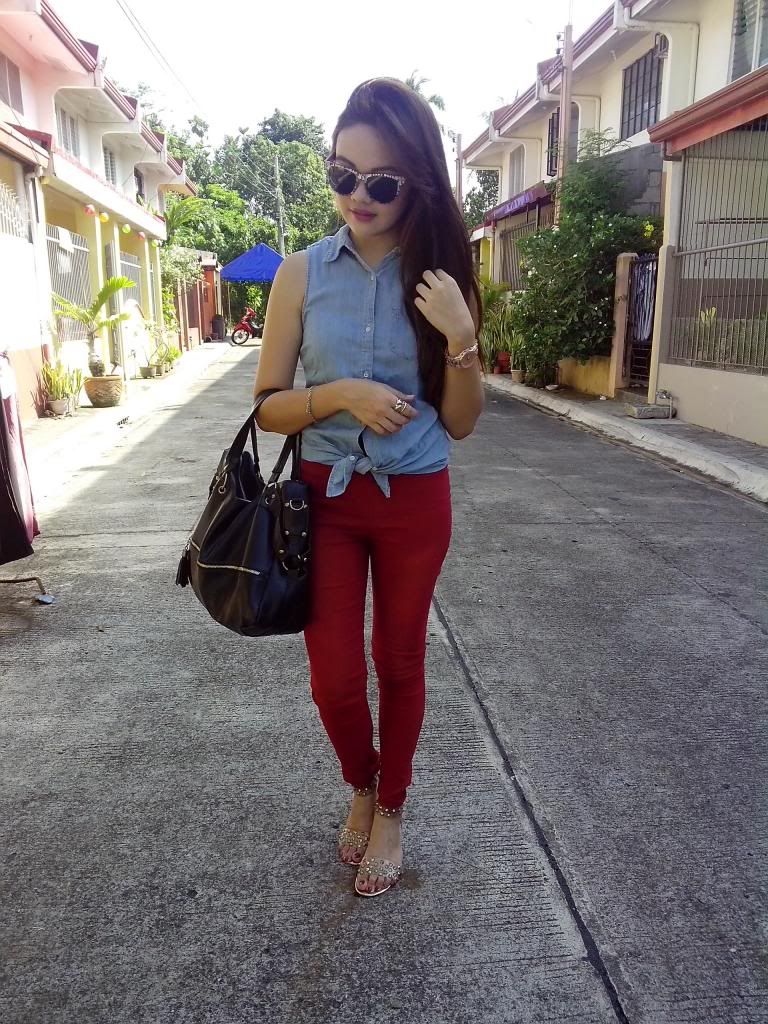 (So denim top ; Thrifted jeggings and bag ; Parklane strappy sandals)
I also wore this when I went to work on a Saturday. I decided to wear something laid back but still, striking. I decided to make my good old denim sleeveless top to a tie-front one for a change and paired it with colored jeggings to spice it up. I'll leave the rest to accessories. Especially to my studded strappy sandals here that has been so reliable since I was in college. It was so overused I can't believe it's still kickin'. ☺
(Top - Isabella's treasure ; Thrifted skorts ; Strappy sandals from Greenhills ; Thrifted bag)
This was what I wore to a movie-slash-tea date with friends. I decided to go for a preppy look which I think was achieved since I look like a schoolgirl in this outfit. Never mind the short length of my skorts though. No school would approve, I'm sure. ☺
Hope you're doing all good! Follow me on
Instagram
! xx ☺